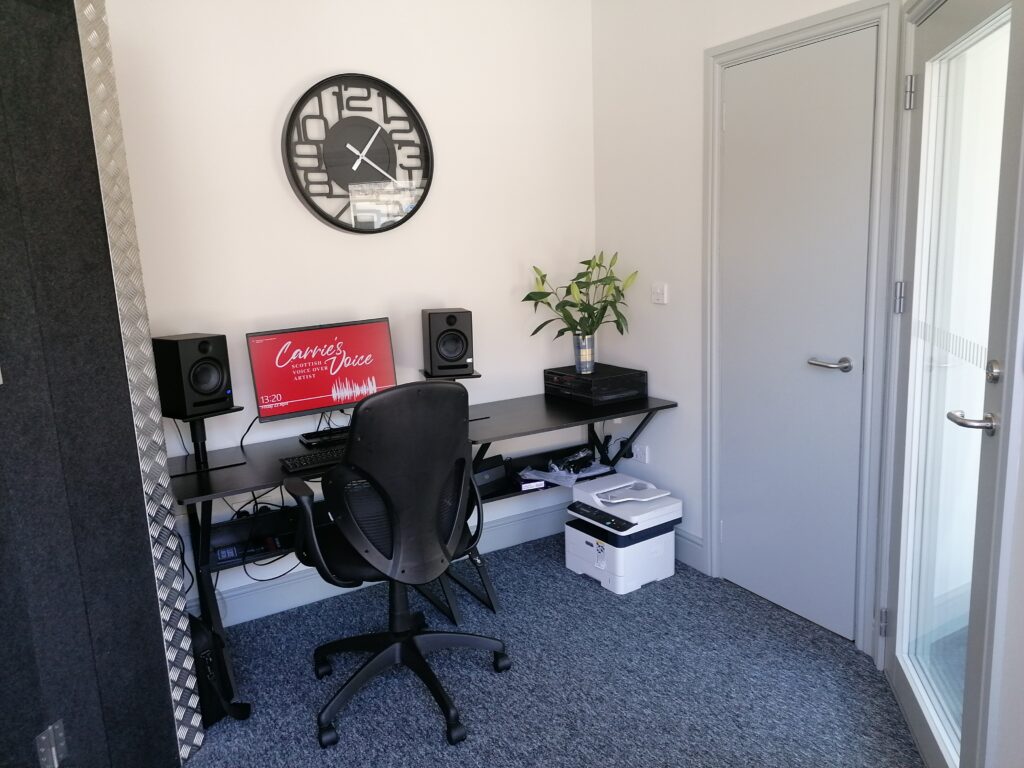 Woop Woop I've moved in! What a transformation in this building, it couldn't be more perfect.

I can't believe the difference from my home VO studio, there is so much space. I think it is going to feel a bit like a dream for quite a few months. At home I have most of the studio set up all the time but I had it all stored within the booth so would have to take out the table to house the computer etc …. It didn't take much effort but it always felt like a hassle. This is going to be so amazing having everything ready to go at a seconds notice.

I don't know who is more pleased… me to be moving in, or Dad to have finished everything! I can't thank him enough for all of the hard work and his eye to detail.

The next few days are going to be spent testing out all the equipment, I've got a 1-2-1 set up with Rob Bee, studio engineer extraordinaire and he will be helping me to tweak all the dials. I've also got a 1-2-1 with Guy Michaels from Voiceover Kickstart who is going to be helping with the set up too. If you are a voiceover artist working from a home studio then I can't recommend Rob and Guy enough!

Next step is to send out audio samples to my clients for approval. I'll be a mix of recording here and recording at home until I get approval from everyone.

I've always found it difficult to switch off at night with my home studio as it's so easy to just jump into the booth to finish something off or to open the laptop and answer those emails – I'm going to really try and change that going forward. I've set work hours for myself 9am-5pm Mon – Fri. Anything that isn't finished by COB can just wait until the next day (with the obvious exception of anything that impacts a client deadline)

Locking up last night and going home was the most amazing feeling…. I really switched off. I didn't think of work once. I'm looking forward to building on this.

If you know of anyone looking for a Scottish voice over artist then please feel free to share my website or demos with them or just ask them to get in touch. I'm also going to be looking into the option of hiring the studio out, this stage is probably a few months away yet.

As far as I know, there are no other Highland voiceover studios so I'm going to try and get the word out to let agencies and recording studios know that I'm here. There are bound to be actors and voice over talent holidaying or working in the Highlands.

Source Connect will be a big help here as it makes it so easy to connect to studios anywhere in the world. We have the Carnegie Club at Skibo Castle and other exclusive hotels on our doorstep so they will be might first port of call. Whenever I go away on holiday I'm guaranteed to get a message about an urgent recording (sods law!), hopefully it is the same for other voice actors and this Highland recording studio can help in a time of need. We will wait and see…