The day has finally arrived and the vocal booth is getting delivered from Kube Vocal Isolation Booths – I am so excited!
We slightly underestimated the size of the delivery so it was a bit of a shock when the delivery man started to unload the pallet. The first problem we came across was that he delivery lorry couldn't fit onto our street. There is a large pavement outside the voice over studio but we couldn't get the pallet up onto the pavement so we had to improvise.  We commandeered a free parking space and had the delivery man unloaded the pallet there. Dad, Davie and myself unpacked the pallet and started to move it all into the studio.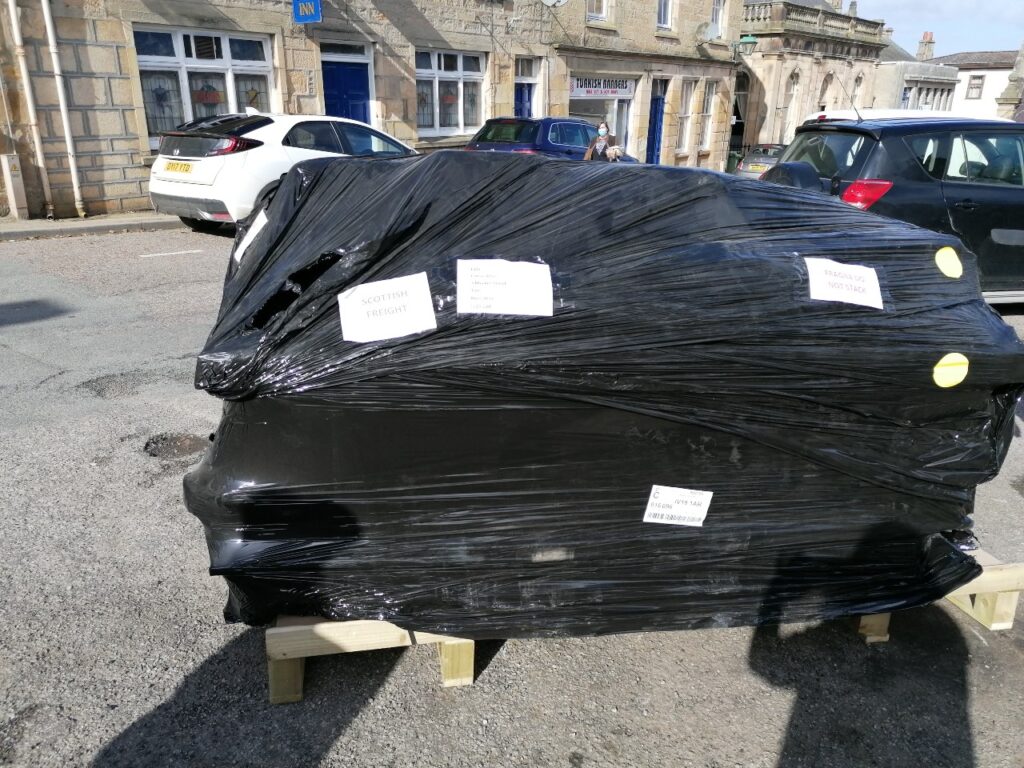 These pieces are SO HEAVY! The instructions say two people can assemble it but I'd suggest at least 3 to 4. When everything was moved safely into the studio we left it there for a day to come up with a plan on how best to put the booth together.
Dad and Nick did most of the work, I really wasn't much help at all! The instructions provided by Kube were fantastic. Lifting the door proved to be the hardest part as it was incredibly heavy. As I mentioned, you really would want more than 2 people putting this together.

The booth finishes off the studio perfectly it is so much bigger than I pictured. I can't imagine having all that space to record my voiceovers. My home studio is quite tight for space so this is going to be a dream to work in. I can't wait to record my first job from here.
When the booth was constructed, Dad put the monitor up onto the mount. Kube had kindly factored that into the design and the holes were already in place. Then it was just the light to fit and the tiles to put up. That was fun putting them all up and it just made it look so good.
I'm not going to rush this set up stage and have still been recording from home. I'll hopefully record in here in a few days.
I'll be setting up the mic (Shure sm7b) and other equipment soon and it is all starting to feel more real! Here are some pics so you can see the build process…